Lancashire Central is a multi-million pound strategic employment site that sits at the heart of the county's long-term economic strategy. 
Perfectly located next to the M65 and M6, and a short distance from the M61, the 100+ acre site has the potential to generate up to 5,600 full time jobs, and create significant opportunities for both existing and new businesses.
Key features include: 
Significant new local employment space for

offices, industrial, storage and distribution uses, and R&D
Commercial uses such as retail (foodstore

and car showroom)

Food and drink outlets (including family

dining)

Leisure and Wellbeing (including gym/

creche, health centre, pharmacy)

Up to 116 new homes set in a natural

landscape adjacent to existing residential housing.
Major investments will also be made to improve road, pedestrian and cycle access. This includes new walking and cycle routes which will connect to existing traffic-free networks. 
Environmental infrastructure, which will support the health, wellbeing and sustainability agendas, includes trees and shrub planting, improved green space, ponds and other water features.
Site details
Size of site: 100+ acres
Location: Land south west of Farington, PR5 6EG
Connectivity: Located at the western termination of the M65;
3 minutes drive to Junction 29, M6 5 minutes drive to Junction 9, M61 15 minutes drive to Preston/20 minutes to Blackburn 
The site has good access to public transport links
Scheme value: Local economic boost up to £390 million per year
Planning status: Outline Planning application submitted – awaiting determination
Promoter: Lancashire County Council/Maple Grove Developments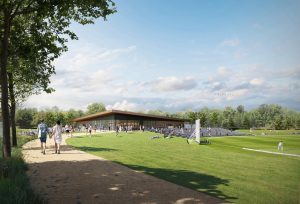 Farington Cricket Campus
Despite the name, Lancashire Cricket Club has not officially been based in the county of Lancashire for nearly 50 years. That however is set to change with the proposed Farington cricket campus – a £15m+ scheme which will see first-class cricket facilities, and associated amenities, being developed in the heart of Lancashire in addition to the club's existing facilities at Emirates Old Trafford.
Once complete, the all-year-round 26-acre facility will host a number of Lancashire Cricket's top-flight competitive matches each year (for both the men's and women's teams) including T20 and four-day fixtures. It will also provide the club with an additional training base for its youth and adult teams.
As well as featuring two pitches, a pavilion, and training facilities for elite cricket, plans include opportunities for wider community use of the facilities, with one of the pitches dedicated specifically to community use. The development will become a North- West Centre of Excellence to support the development of women and girls' cricket across the region.
In addition to creating a new, vibrant sporting facility in Central Lancashire, which the whole community can access and enjoy, the designs for the site have been sensitively, innovatively and carefully conceived to maximise the open, green and natural aspects of the setting.
With a potential capacity of up to 5,000 spectators for identified events, the Farington cricket campus is anticipated to attract both casual visitors and cricket fans from across Lancashire and beyond; boosting the footfall of the nearby Lancashire Central employment site (see opposite page), and helping to support commercial opportunities in other adjacent locations.