Morecambe, and the wider North Lancashire area, is set to directly benefit from the Eden Project Morecambe scheme. Conceived by the team behind the world-famous Eden Project in Cornwall, the 36-acre development was given the green light by Government in March 2023, along with £50m of Levelling Up funding, to allow work to commence on the £100m project. 
Described as a destination which 're-imagines Morecambe as a seaside resort for the 21st Century', it will be a ticketed tourist attraction. Focusing on the key themes of education, ecology, wellbeing and community, Eden Project Morecambe will combine indoor and outdoor experiences that directly link to the internationally significant natural environment of Morecambe Bay. 
Being less than two hours travel time from most of the North's main conurbations, and with a local catchment area of ten million people, Eden Project Morecambe is anticipating attracting up to 750,000 visitors a year. It is also expected to help create over 1,250 jobs, and inject £150m GVA per year into the North West economy. 
Adjacent to the famous art deco Midland Hotel, and near to the 125-year-old Winter Gardens theatre, the Frontierland development site, and many other commercial sites and business districts, it is anticipated that Eden Project Morecambe will accelerate Morecambe's regeneration, creating significant new property-led economic opportunities throughout the resort – and far beyond – in the process. 
More information at edenproject.com/new-edens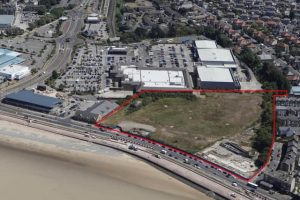 Frontierland
With £50m government funding for the £100m Eden Project Morecambe confirmed, Lancaster City Council will be seeking submissions for all sectors of the market for a transformational, mixed-use development with a strong leisure component.
Located in one of the most prominent and prime seafront locations in the resort, the 7.4 acre site offers an unrivalled opportunity to enhance Morecambe as it continues to grow with an increased focus on cultural and leisure uses.
Key features include:
Large, cleared brownfield site with 200 metres of sea frontage overlooking Morecambe Bay to the Lake District
Prominent and centrally located, 250 metres from Eden site and iconic Midland Hotel
Bounded to the south by the West End residential area and major retail offer to the east and north
Bus and train stations just 400m/ five minutes walk from the site.
A recent call for expressions of interest will be used to inform production of a development brief for the site which will be marketed in 2023. The aim is for development to complete for the Eden Project Morecambe opening in 2026.
Development brief will likely require proposals to:
Integrate well with the seafront, with good provision for pedestrians
Present active frontages to Marine Road West (which could include leisure, retail and food and drink uses)
Contribute to public realm improvements to the adjacent seafront and promenade
Make good use of the variable landforms, and the elevated part of the site
Consider the potential for public car parking within the scheme.
Site details
Size of site: 7.4 acres
Location: Marine Road West, Morecambe, LA4 4DG
Connectivity: Site is 6 miles/15 minutes drive to Junction 34, M6, and 5 miles/ 20 minutes drive to Lancaster
Frequent rail services to Lancaster, plus direct trains to Preston and Leeds
Direct bus services to Lancaster, Lancaster University, Heysham, and Lake District
Promenade cycleway links to Heysham Port (4 miles/25 minute ride)
Scheme value: TBC
Planning status: Recognised in the Morecambe Area Action Plan
Promoter: Lancaster City Council