Blackpool Airport Enterprise Zone
Located just off Blackpool's seafront, with the resort's major attractions (including Blackpool Tower, Blackpool Pleasure Beach and Promenade) located within ten minutes' drive, Blackpool Airport boasts one of the UK's most successful Enterprise Zones. 
With an estimated £300m of additional private sector development potential, 25 acres of newly unlocked commercial land is primed for development for commercial use at the EZ's Eastern Gateway. 
Accommodation within secure, landscaped plots (ranging from 15,000sq ft to 100,000sq ft) is available, with power, utilities and property access in place. 
With excellent connectivity by car, train and tram, the EZ site is also connected to the North Atlantic Loop; an ultra-fast, low latency internet connection which can transfer data to New York in less than 64 milliseconds. 
The EZ site is adjacent to Blackpool Airport which operates 35,000 flight movements per year. Future developments at the airport will include a new terminal and aircraft hangars, enabling increased activities including business jet opportunities. 
A solar farm and battery storage facility are also planned, together with a proposed Knowledge Quarter scheme which would be home to the UK's largest hub of ethically powered data centres. 
The south eastern edge of the Enterprise Zone also features a £6m sports village including 14 football pitches, an all-weather pitch, a rugby pitch, and state-of-the-art changing rooms. There is also direct car and train access to Lytham St Annes' beaches and golf amenities.
Site details
Size of site: 356 acres 
Location: Amy Johnson Way, Blackpool FY4 2RP 
Connectivity: Situated 5 minutes from end of M55 motorway via the A5230. 
Directly adjacent to Blackpool Airport, and Squires Gate train station. 
10 minute walk from Starr Gate tram station, and 3 miles/15 minute drive from Blackpool town centre. 
Construction of a second access road to the Enterprise Zone will commence in 2023. 
Scheme value: £300m 
Planning status: Outline planning status granted, detailed planning depending on site. 
Promoter: Blackpool Council + Private Sector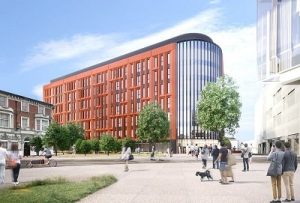 Talbot Gateway
Adjacent to Blackpool North station, and with a new tram terminal being completed this year, Talbot Gateway is a major mixed-use 20-acre scheme which will significantly boost Blackpool's leisure, tourism and retail offer. With over 1.1m sq. ft of commercial space being created, and an annual footfall of two million visits, the scheme will also enhance the resort's central business district, bringing an anticipated additional 5,000 office workers and students into the town centre. 
A new Holiday Inn hotel, and Marco Pierre White restaurant, will be completed in 2023. Retail units, ranging from 400sq ft to 1,800sq ft, will be available underneath the hotel, while units underneath the flagship council office development are available now. Land immediately north of the train station is also currently available for development. 
Further, a new government Civil Service Hub is due to complete in 2024. The same year, construction will commence on a £70m Multiversity project; a leading-edge education campus being delivered in partnership with Blackpool and the Fylde College, and Lancaster University. 
Site details
Size of site: 20 acres 
Location: Talbot Road, Blackpool, FY1 3AZ 
Connectivity: Talbot Gateway surrounds Blackpool North Train Station, which offers direct routes to Preston, Manchester, Leeds and London. 
The transport interchange will also connect the station to Blackpool tramway, which runs along the length of Blackpool Promenade south to Blackpool Airport, and north to Fleetwood. 
It can also be accessed by car, and is 15 minutes from the end of the M55. 
Scheme value: £300m 
Planning status: Outline granted 
Promoter: Blackpool Council + Muse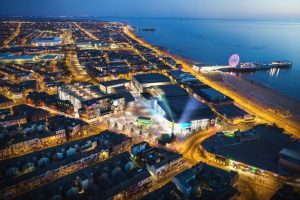 Blackpool Central
Sitting at the heart of Blackpool's tourist centre, Blackpool Central will be a new year-round, world-class leisure destination. One of the UK's most significant regeneration projects, it will be the largest single investment in Blackpool for over a century. 
Building on the 18 million tourists who already visit the UK's favourite seaside destination every year, Blackpool Central is projected to attract 600,000 new visitors to the resort, creating 1,000 new jobs, and boosting annual spend in the town by £75m. 
With a focus on families, the scheme will feature three indoor entertainment centres. Highlights will include a 'flying theatre', the latest immersive VR technology, and a wide variety of food and beverage outlets.
Footfall will be guaranteed by its proximity to many of Blackpool's most popular attractions. Immediately to the north is Blackpool Tower and the Comedy Carpet, to the west, Blackpool Central Pier and main Promenade. Other major leisure attractions such as Sea Life Centre, Madame Tussauds are within walking distance. Sandcastle Waterpark and Pleasure Beach Blackpool can be reached by tram in five minutes, while Blackpool town centre is just a ten-minute walk away.
Construction of the enabling phase is expected to complete at the end of 2023 with a new 1,300 space multi-storey car park. 
Phase One (anticipated start 2024) will deliver the majority of the new leisure attraction components. A second phase will involve the development and refurbishment of the Heritage Quarter, including a new artisan food hall, new hotel, and new apartments. The indoor entertainment venue, and a new public events square, will follow in Phase Two. 
Investment opportunities for investors will revolve around the surrounding areas of the site, which is in private ownership, but will benefit hugely from the increase in footfall and regeneration of the Blackpool Central district.
Site details
Size of site: 12.3 acres
Location: Seasiders Way, Blackpool, FY1 5QE
Connectivity: 5 minutes drive from the end of the M55. 
10 minutes walk to Blackpool town centre. 
Also accessible via Blackpool's tramway, which runs along the Promenade direct from Blackpool North train station.
Scheme value: £300m
Planning status: Outline granted 
Promoter: Blackpool Council + Nikal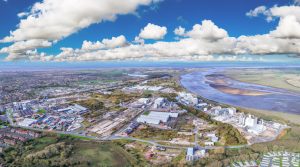 Hillhouse Enterprise Zone
Located near the thriving seafront towns of Fleetwood and Thornton Cleveleys, Hillhouse Enterprise Zone is located on the site of the former ICI manufacturing plant. A world-leading chemical and polymer location, the site is home to over 40 businesses. 
Areas of land are now available for redevelopment with design and build opportunities offered in three envelopes of 6, 9 and 40 acres. A full design and build option is also available for sizes between 20,000 to 300,000 sq. ft, with prospective occupiers having the ability to stipulate their bespoke configuration and specification. 
The site offers a multitude of opportunities for investment and relocation, with surfaced land also available in 3-40 acre plots. Enhanced power supply up to 120 MVA, and high-capacity water supplies, are available. 
Site details
Size of site: 340 acres 
Location: Bourne Road, Thornton Cleveleys, FY5 4QD 
Connectivity: Via the A585, 25 minutes/ 9 miles from Junction 3 of the M55. 
Nearby access to Poulton-le-Fylde train station offers direct trains to Preston, Manchester, London, and all major northern cities. 
Blackpool's seafront is a 15-minute drive, and also accessible by tram. 
Scheme value: TBC 
Planning status: TBC 
Promoter: Wyre Borough Council + Private Sector 
Springfields
Powering Lancashire's energy offer, Westinghouse's Springfields site has been manufacturing world-class nuclear fuel, and related products, for almost 75 years. 
The 80-hectare site is today one of the most advanced nuclear fuel generating facilities in the world, with its Oxide Fuels Complex being the UK's only commercial fuel fabrication facility. Utilising advanced manufacturing processes, the Springfields site produces around 32% of all the low-carbon electricity generated in the UK. 
Springfields, which is recognised as a world leader in safety, quality, environmental, and technological standards, also hosts the Clean Energy Technology Park (CETP). This facility is open to technology developers, supply chain partners, and academia; enabling collaboration on advanced and innovative nuclear technologies. It further acts as a centre of excellence for nuclear materials management. 
Springfields and the CETP both have excellent infrastructure and connectivity. Land is available for development, while established links with universities and training providers enables the acceleration of R&D.